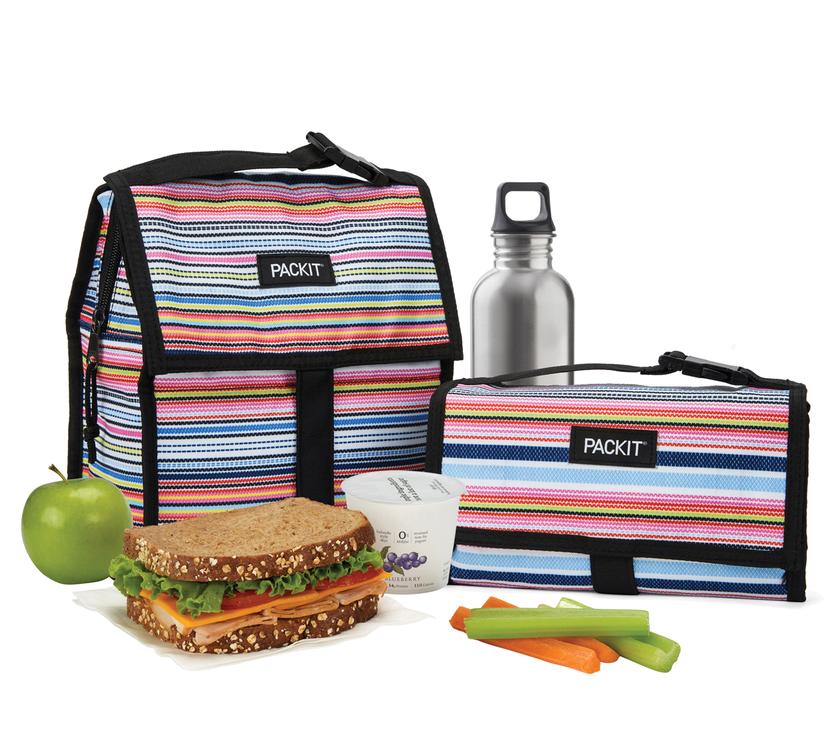 PackIt's Freezable Lunch Bag is the original bag with built-in cooling that keeps anything you pack cooler, longer. The secret is PackIt's patented cooling technology. Freezable gel is permanently built into the lunch bag so you'll never need to buy separate freezable ice packs or gel packs again! A zippered closure locks in cool, dry air. We've also repositioned the buckle handle so that your lunch will be evenly distributed and the front flap will always stay in place. The buckle can easily clip onto totes, backpacks or strollers. This soft lunch bag is made from nontoxic poly canvas and has a food-safe, water-resistant lining.
PackIt lunch bags are perfect for packing healthy foods such as: dairy, fruits and veggies. Food and drinks stay cool and fresh all day! It's ideal for people with special diets, food sensitivities or allergies. Breastfriend for breastfeeding mommies as well, the breastmilk is good in room temperature for 6 hours, what's more when the bag is able to cool the expressed milk before it slowly returns by to room temperature. Now you can stay out longer without rushing back home with your liquid gold!
Top-load opening makes it easy to pack boxy food containers

Velcro secures bag closure; with overall zip enclosure

Wider base to accommodate lay-flat of lunchboxes

Buckle handle shifted to the back; easily attaches to strollers, messenger bags, sports bag, diaper bag
Product Features

Built-in freezable gel keeps items cool up for hours

Chills a sandwich, snack and a 12 oz (340ml) drink

Zip closure locks in cool, dry air

Buckle handle clips onto totes and strollers

Made from food-safe, nontoxic poly canvas and water-resistant EVA

PVC-, BPA-, phthalate- and lead-free
Capacity: 7L
Dimensions Open: 9.75"H x 8.5"W x 6.25"D
Folded: 2.5"H x 8.5"W x 3"D
Simple Care: wipe thoroughly or hand wash the interior and spot clean exterior; allow bag to dry completely before freezing. Not machine or dishwasher safe.
PackIT: Personal Cooler - Buffalo Check (For Indonesia Only)
Brand: Packit LLC
Product Code: PackIT Personal Cooler
Availability: In Stock
Related Products